...undressed.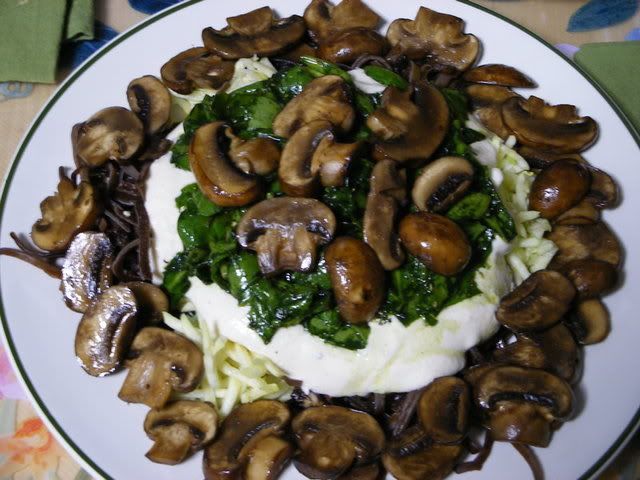 and dressed up in my Raw Parm:
This is a modification I created, inspired by Carmella's "The Sunny Raw Kitchen" site.
OH-SOOOOO-GOOOD!!!
Pasta:
2 zucchini, peeled and grated (I used my grate plate on my food processor)
1/2 2.5 ounce bag of dried black mushroom strips - rehydrated
Sauce:
1 1/2 c. raw macadamias
3/4 c. water
2 garlic cloves
Juice of 1 large lemon
salt, cracked black pepper, and crushed red pepper to taste
Grind macadamias in food processor until a fine meal. Add water, garlic, and lemon. Season to taste. The sauce should be a fairly thick cream. It will thicken a bit more as it sets. If necessary, prior to serving, add a tablespoon of additional water at a time to thin out. It should be the consistency of a thick alfredo sauce.
Spinach and Mushroom Prep:
5 cups baby spinach leaves (this will equate to 3 c. post marindae wilt)
2 1/2 tbsp cold pressed olive oil
2 tsp Herbs du Provence
salt and black pepper to taste
Wash and slice spinach into thick strips, then stir oil and herbs well into it. Set aside to wilt.
1 1/2 c. fresh crimini mushrooms - sliced.
cold pressed olive oil
Nama Shoyu or tamari
Toss mushrooms in just enough equal parts of olive oil and Nama Shoyu (or tamari) to coat. Let marinate for 1 hour.
Dehydration is optional - if you choose to warm in dehydrator, place spinach, mushrooms and pastas
separately
in small glass bowls in the dehydrator, and warm for 1 hour.
Assembly: This dish can be plated individually, or family style on a large platter. Begin by placing alternating, equal sized mounds of the black mushroom strips and zucchini shreds on a plate or large family-sized platter. Cover the entire base of the plate. Next, spoon the macadamia cream sauce over the pastas. Top with spinach and then mushrooms, lining the bottom edge of the plates/platter with mushrooms as well. Have a dish of Raw Parm on the table so that each can use as much or little as they wish. Bon Appetit!