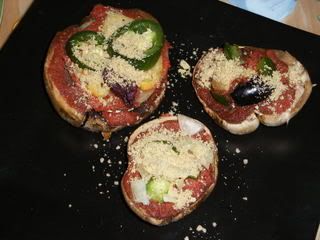 Mattye's Mushroom Pizzas!
base:
8-10 Large white mushrooms
sauce:
3 roma tomatoes
1 clove garlic
Italian seasoning, s&p to taste
Toppings of your choice
Raw Parm (see recipe above)
Cut each of the mushrooms in half, producing 2 disks from each. If you have any with any holes in them after cutting, place a very thin slice of onion over the base before saucing. Spoon sauce over the caps to the edge of each. Top with toppings of your choice - here I used onion, bell pepper, jalapeno, black olives, and pineapple. Place in dehydrator for 5-6 hours. Remove and dust with Raw Parm. Serve!!